Drivy is joining Getaround
A letter from our founder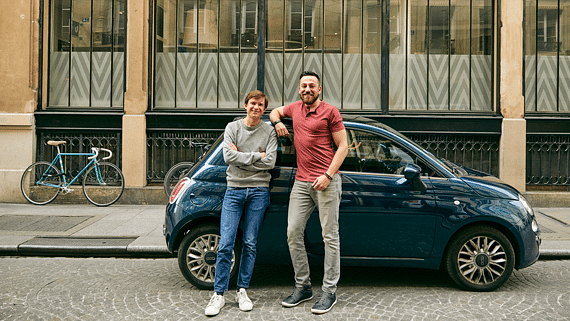 APRIL 24, 2019
---
Eight years ago in Paris, Drivy was one of the first companies in the world to launch a carsharing platform.
Our obsession since the day we started was to make your experience as a customer or car owner as convenient as possible. We realised very early on that if hopping into a Drivy became more convenient than owning your own car, we could make a huge, positive impact on cities: less space needed for parking, less pollution, and more freedom to get around.
So we worked tirelessly to deliver a service that was a bit faster, a bit simpler, a bit better, every week. We constantly upgraded our insurance coverage. We made every step of a trip available on our mobile app – from instant booking to licence verification. We invested heavily in our most important innovation, Drivy Open, which turned the app into the car's key.
Our efforts paid off. We went from customers needing a minimum of half a day to complete the process of getting a car and start driving, down to less than 10 minutes total.
Eight years ago in San Francisco, a company called Getaround was also preparing to launch its own carsharing platform.
Getaround's obsession was the same as ours: convenience. Led by their CEO Sam Zaid, they made very few compromises to deliver the most seamless experience. Getaround focused on having thousands of shared cars in San Francisco before working on other cities. They also decided very early on to work only with connected cars – to have a fully keyless service.
Our shared ambitions
Last year, as it was becoming obvious that we had the same mission despite being on two different continents, Sam and I started talking to each other. We were surprised to discover how similar our approaches and ambitions were.
Both of us truly believe that this is only the beginning for carsharing. We know there's still a long way to go.
We want you to be able to start driving in 10 seconds rather than 10 minutes. We want our fleets to be more dense, and available in hundreds of cities around the world. We want electric cars to provide virtually all of our short-haul trips. We want to make it effortless for owners of new cars that are already connected to join our platform. And we want to use artificial intelligence to radically improve safety and trust.
To get there, we'll need a larger team and more investment power.
So today, we're extremely happy to announce that Drivy is joining forces with Getaround to build a global carsharing leader. Together, we're ushering in the future of carsharing – sooner than originally planned.
What happens next?
For now, we're continuing to operate as Drivy. Our apps, operations, and main terms of service remain unchanged. In a few months, we'll change our name to Getaround.
In time, we'll transition to one global app, so you can book cars in the USA, Europe, and possibly even other continents in the future. Expect big things to come!
Our ultimate goal is to make our service the default choice whenever you need a car. So we'll continue to invest in making the service known across Europe. For our customers, that means greater choice and better proximity. For our owner-partners, that means more demand for your car, so it eventually pays for itself.
The journey continues...
I'd like to thank you, our customers and owner-partners, for your trust and belief in us. Thank you for all of the trips we've shared together.
We stay intensely committed to improving the service every day to make carsharing as convenient as possible, and to make cities more liveable – now on both sides of the Atlantic. It's a new road ahead for Drivy and, we believe, a new era for carsharing.
The road may be long, but the destination is certainly worth it.
Paulin Dementhon
CEO and founder, Drivy ... now CEO EMEA, Getaround