Farewell Drivy, Hello Getaround!
From 1st October, Drivy is now known as Getaround.
Six months after its acquisition by Getaround for US $300m (£232m), Drivy, Europe's leading car sharing platform, has rebranded to Getaround.
The rebrand will take effect across the six European countries where the service operates - France, Germany, Spain, Austria, Belgium and the UK. Now a unified car sharing brand across Europe and the USA, Getaround will serve 5 million users across more than 300 cities.
The hourly pricing: a feature that brings more flexibility to Getaround drivers and more revenue to Getaround owners
As part of the Getaround family, the service will now be refocusing efforts on optimising, improving and expanding the service within the European car sharing market. With the introduction of affordable short term hourly pricing, the platform will allow users to access shared vehicles by the hour or day, based around their mobility needs.
The new hourly pricing feature, previously not available with Drivy, will mean that Getaround users can take shorter trips and benefit from a progressive price based on the real duration of their rentals. Our prices will now be calculated by the hour, with the cost of the rental decreasing proportionally for every additional hour of rental.
At the same time, private car and fleet owners will also be able to benefit from increased flexibility and a higher number of car bookings. Hourly rentals will also help with optimising occupancy rates of cars, especially during weekdays, with an expected increase in revenues estimated at 30%.
Drivy's flagship Open technology will now also be known as Getaround Connect. The technology will not change, it will continue to offer the same ability to instantly search, select, book and unlock a car in a few minutes (once already verified) entirely on a smartphone. As before, no membership cards, waiting in long queues or paperwork will ever be required.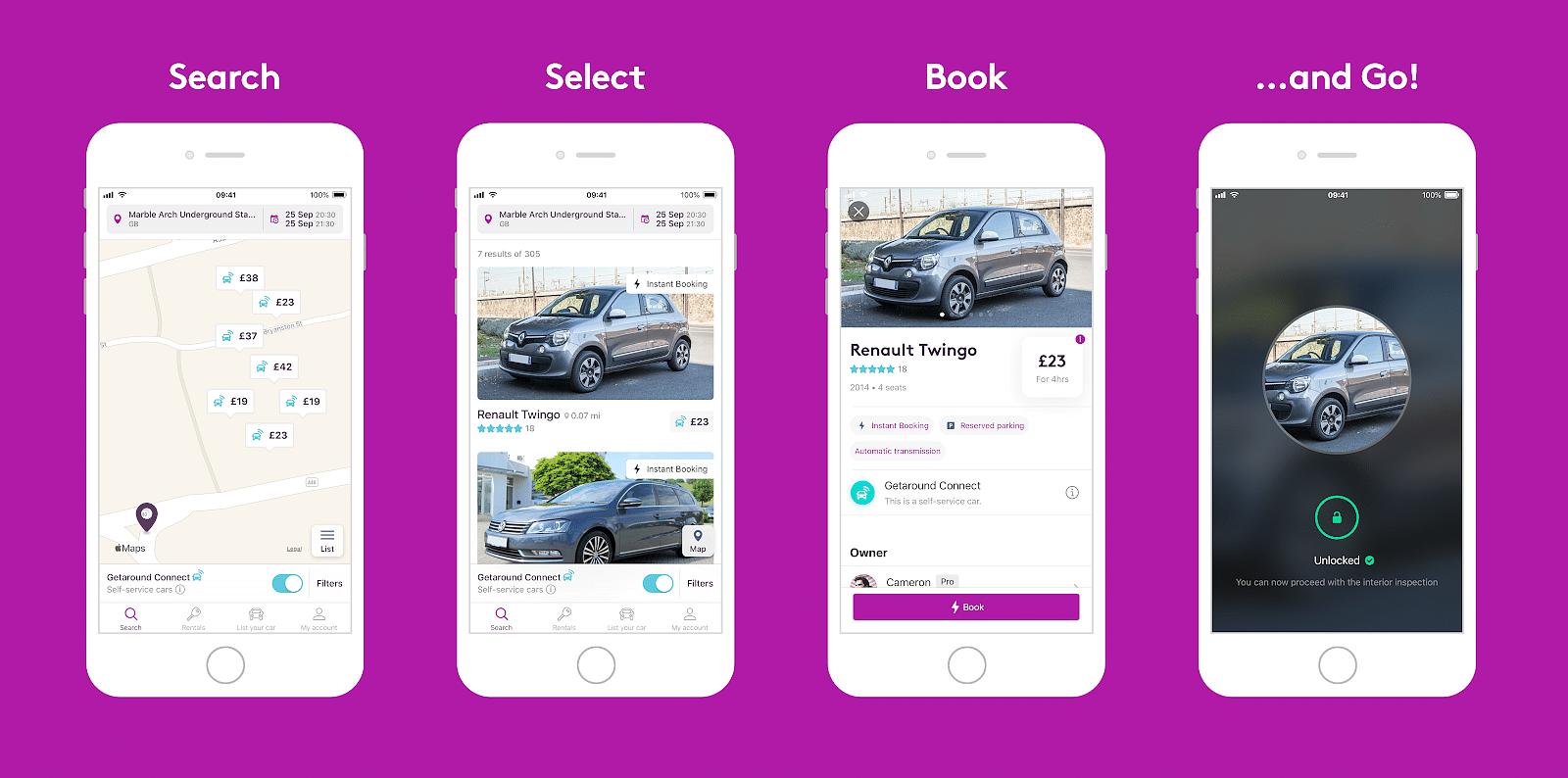 From car rental marketplace to world leading car sharing platform Getaround will look to continue Drivy's vision to become one of the most convenient car sharing services in the world.
Providing truly flexible and affordable mobility options, Getaround can become a convenient and viable alternative to car ownership and play a part in helping major cities like London in their fight against the pollution and congestion caused by idle cars.
To fuel its expansion across Europe, Getaround will now focus its efforts on becoming a leading provider in terms of price and convenience alltrip lengths. The company will work towards growing its fleet towards the challenging 10,000 connected car milestone in 2020 and to pursue its geographic expansion by launching two new European countries within the next year.
The European and UK leadership will not change. Whilst, Sam Zaid is now the global CEO of Getaround, Paulin Dementhon formerly CEO of Drivy will remain at the company and is now the European CEO of Getaround. Katy Medlock will continue as Head of UK.
To find out more, visit Getaround's new platform: uk.getaround.com