Getaround and Moovit announce global partnership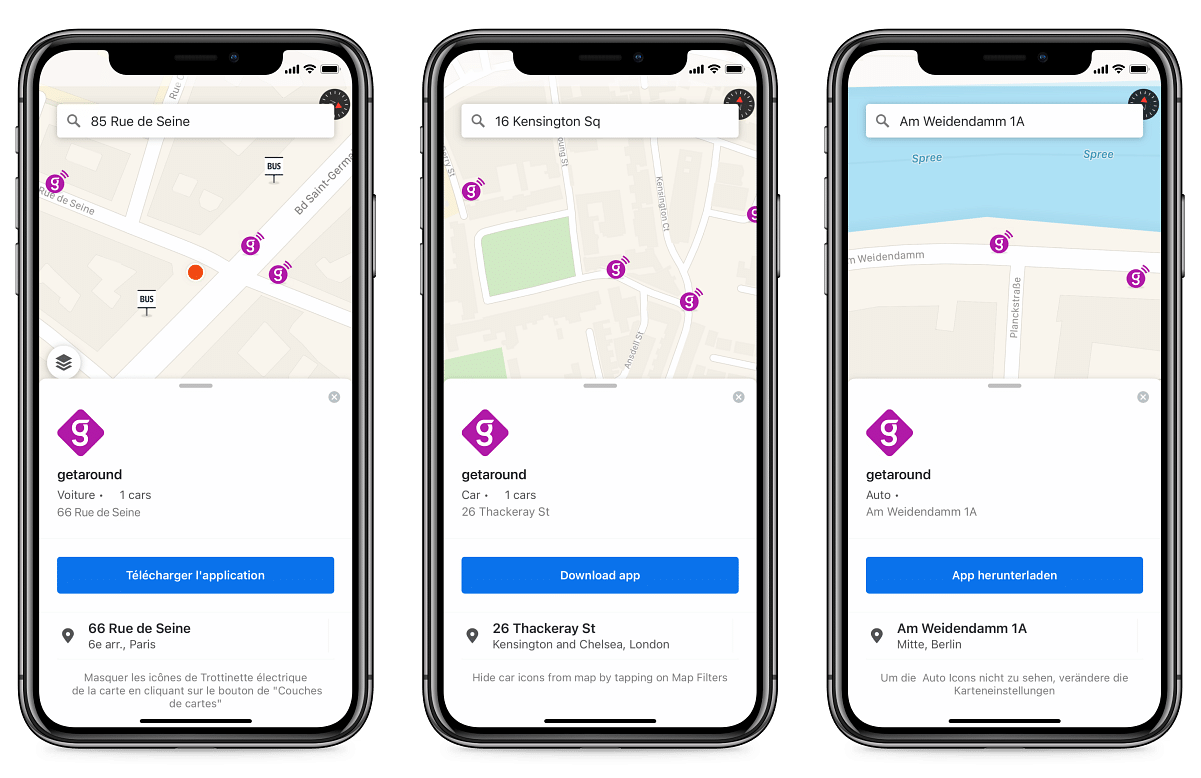 Whether taking a quick roundtrip, or in need of a vehicle for that summer road trip, Moovit users in France, Germany, United Kingdom and Belgium can now discover Getaround carsharing in the Moovit app.
Paris, July 29, 2021 - Getaround, the world's leading digital connected carsharing marketplace, is announcing a global partnership with Moovit, an Intel company, a leading Mobility as a Service (MaaS) provider and creator of the #1 urban mobility app.
The partnership, cruising into four European countries, enables Moovit users to discover Getaround carsharing in the free Moovit app for more mobility alternatives that save time and reduce the need for a private car for short or long distance journeys. This is Moovit's biggest global partnership with a carsharing provider.
The freedom to choose the most preferred mode of travel in one app is now available to millions of European residents, thanks to Getaround's partnership with Moovit.
The complementary mobility companies — Getaround, a leading carsharing platform active in over 850 cities across eight countries, and Moovit, which has guided over a billion users in getting to their destination using any mode of transport in over 450 cities across Europe — will enable Moovit users to discover Getaround cars in the Moovit app. Offering more shared mobility options will help users more easily plan the most convenient journeys.
This offering is available in:
- Belgium – Brussels,
- France – Paris, Marseille, Lyon, Bordeaux, Toulouse,
- Germany – Berlin/Brandenburg, Hamburg,
- United-Kingdom – London
'Joining forces with Moovit is a huge step forward for the democratisation of carsharing, and makes it even more accessible for millions of people in many key cities', said Simon Baldeyrou, COO of Getaround Europe. "Moovit's expertise in guiding people towards the best mobility solutions, combined with our very broad supply and fully connected user experience, empowers city dwellers in their everyday diverse commuting needs. We're very happy to implement this integration with such a leading MaaS (Mobility as a Service) company, bringing multimodality to the forefront.'
'We are excited to partner with Getaround and make getting around frictionless for more people — for both short and long distance journeys across Europe', said Samuel Sed Piazza, Director of Partnerships at Moovit. 'Enabling people to find all modes of transport via one app makes getting around much easier and will help shift them from using private cars to instead using public and shared transport services.'
Getaround's digital carsharing solution enables users to find, book, and unlock a wide variety of vehicles directly from the Getaround app 24/7, without needing to meet anyone in person, carry an access card, wait in line, or coordinate picking up keys. This fully digital and contactless rental experience meets the demand for more convenient and cost-effective mobility solutions closer to where people live and work, and has been especially relevant in the context of the COVID-19 pandemic, offering flexibility and peace of mind.
Moovit's free iOS, Android, and Web apps guide people in getting around town effectively and conveniently, using any mode of transport. By combining information from public transport operators and authorities with live information from the user community, Moovit offers travelers a real-time picture, including the best route for the journey, with urban mobility options like bus, train, metro, ride-hailing, carpooling, scooters, bikes, and now Getaround's carsharing services.
Moovit provides users real-time arrival information so they know exactly when their bus or train is arriving, a Live Directions feature with Get Off Alerts to provide step-by-step guidance for the entire journey, and Service Alerts so they can avoid disruptions on usual lines and plan their journey accordingly. Moovit also incorporates accessibility features, empowering people across the disability spectrum to use public transport with more assurance. The app is optimised with screen reading features for low vision users, including TalkBack/VoiceOver capabilities, identifies wheelchair-accessible routes and stations, and calculates step-free routes. Moovit's app is also designed with optimised menus and buttons for those with hand-motor disabilities.
You can download the Moovit app on the App Store and Google Play.
About Getaround:
Getaround connects safe, convenient, and affordable cars with people who need them to live and work. We aim to create the world's best carsharing marketplace with proprietary technology and data that make sharing vehicles superior to owning them.
Founded in 2009, Getaround is the world's leading carsharing platform, active in over 850 cities across 8 countries. People use Getaround to find a car nearby, which they can unlock with their phone, and drive to wherever they want for a few hours or days. The Getaround community includes owners - private and professional, including those who operate their own carsharing businesses - who share their cars on the platform, and drivers who rely on the cars provided for their on-demand mobility needs.
We support the United Nations Sustainable Development Goals to "make cities and human settlements inclusive, safe, resilient and sustainable".
For more information, visit Getaround.com or download our iPhone and Android app.
Getaround PR contact
Matthieu Bouchaud
[email protected]
About Moovit
Moovit, an Intel company, is a leading Mobility as a Service (MaaS) solutions provider and the creator of the #1 urban mobility app. Moovit was acquired by Intel in 2020 to join forces with Mobileye and advance its MaaS strategy. Together, Moovit and Mobileye will accelerate the global adoption of autonomous transportation. Moovit's iOS, Android, and Web apps guide people in getting around town effectively and conveniently, using any mode of transport. Introduced in 2012, it now serves over 1 billion users in more than 3,400 cities across 112 countries. Moovit amasses up to six billion anonymous data points a day to add to the world's largest repository of transit and urban mobility data. For governments, cities, transit agencies, and private companies, Moovit offers AI-powered MaaS solutions covering planning, operations, and optimization with proven value in reducing congestion, growing ridership, and increasing efficiency and asset utilization. Industry leaders such as Microsoft, Uber, and Cubic have partnered with Moovit to power their mobility offerings.
Moovit PR contact
Alexandre Dawidowicz – Tel.: 01 77 47 45 41 [email protected] Armelle Haim – Tel.: +972 54 434 686 [email protected]